Being someone who has grown up with 2 dogs on the border of New York City, every 4th of July is a new and great experience.The days surrounding the holiday are spent with friends and family, barbecuing good food and watching beautiful fireworks. From an exterior point of view, it seems cruel to let your dog miss out on all the fun, but I have learned that it may actually be in your best interest to leave him at home. Fireworks and barbecues are fun for a human but can be unsafe for your pet.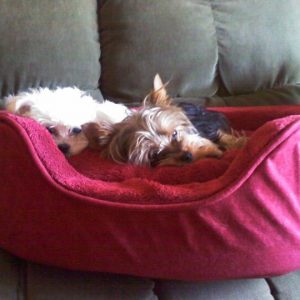 My dogs, Minnie (a tiny maltese), and Sparky (a small yorkie) have not been present at any of my 4th of July festivities. As much as I love barbecued chicken and chocolate cake, it can make my little guys sick if they get a hold of it. If you decide to bring your dog to your 4th of July barbecue, you will end up watching his every move. Even though I know what not to feed my dogs, they can end up getting a hold of something on the floor when I'm not paying attention. Your dog can end up getting a hold of greasy foods, chocolate, or even end up choking on a chicken bone. In addition to this, the sound of fireworks is very loud and can shock and scare your dog, causing them to react on impulse and run away. Coming from someone who considers their dogs family, it is my biggest fear to ever have them go missing. By making the choice to not bring your dogs out on the 4th of July, you can be sure that he will be safe and happy on the days following!
Pet Camp wishes you and your pets a happy and safe 4th of July!
This is a guest blog by Rachael Klaiman who is spending the summer and the 4th in foggy San Francisco, far away from the shores of the Hudson where she grew up.