So, I asked my boss and best friend Willis (my cat of 16 years) to write me a letter of recommendation and he did such a good job that I landed the job as the manager of the Cat Safari.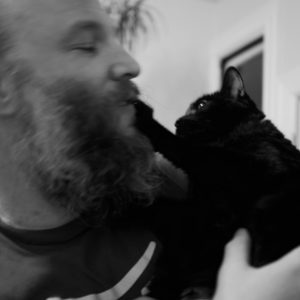 I started my animal care career in the veterinary field where I gained 13 years of experience in client and companion animal care.  During that time, I have had the privilege to work with the absolute finest veterinarians in San Francisco and have developed close relationships with many pets and their humans.  Working for such a long time in that field has allowed me to see many pets grow through all life stages- from first puppy and kitten visits to senior care, and I feel as if I grew with them.  I actually started my career working as a veterinary assistant/receptionist to an amazing doctor that became a very close friend of mine.  She taught me so much in this position that made me want to work in the pet care industry long term. This practice was not only a general practice facility but it had overnight emergency and an adoption shelter upstairs.  I was responsible for preparing every cat or dog for their appointment, which included weighing and taking the temperatures of every patient, making sure the records were accurate and presenting each case to my doctor.  The thing that I loved about this job the most was the overnight shift.  One weekend a month my doctor and I worked a 24 hour shift where we saw every kind of emergency that could be imagined.  During these evenings I learned a lot of hands on skills that have stuck with me for years, including giving subcutaneous fluids, medications and all kinds of other treatments.  Another big part of this position was being a liaison between the client and the doctor.  It was here that I shined.  After my doctor moved to Australia I received an opportunity take my skills to a smaller practice that was in need of an experienced receptionist. My career advanced and I became the client service manager which required me to lead a team of 6-8 client service representatives in a very busy practice for 8 years.  I trained and mentored many teams over the years and it was here that I learned so much about cats and people alike.  There is definitely an art to making people feel comfortable leaving their loved ones at a facility for any reason, whether it was for surgery or for us to take care of while they were on vacation (we boarded rabbits, birds and exotics only.)  It was all about trust and I've really trusted everyone that I've worked with, including everyone here at the Cat Safari.
I actually met Mark and Virginia at my last job because they bring their own pets to that hospital for care.
My experiences have prepared me for this different version of pet care that I'm excited to become a part of.  There is a lot to learn, but I have an amazing team that is just as excited as I am.  The Cat Safari is more than just a boarding facility, it's a family.
One

Response to "Meet Ishai – Pet Camp's New Cat Safari Manager"
maureen delema