The other week I attended the 5th annual Owners' of Doggie Day Care Convention (often referred to as the ODD Ball).  It's three days of discussions of best practices as well as presentations by pet care professionals and other experts. This year one of the presenters was Michael Shikashio of Complete Canines, LLC.
Most of Michael's presentation was on reading dog body language and what to do when dogs play, shall we say, in a less than desirable way. Almost in passing he said, and I think this is a direct quote, "Dog parks are like bars, full of fighting, humping and disease."  Now don't get me wrong, I love Fort Funston and Crissy Field as much as the next San Francisco pet parent, but this statement reminded me of much of what I hear about San Francisco's dog parks on social media and when chatting with pet parents in Pet Camp's lobby and, more importantly, how Pet Camp's play areas and our group play and doggie daycare are so different.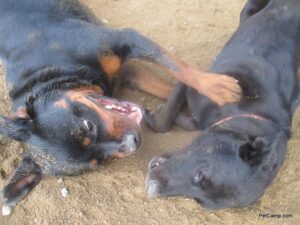 Now I'm not asserting that we are perfect, and dogs will sometimes be dogs, but I am confident that our playgroups, while at least as much fun as a San Francisco dog park, are a whole lot safer and here's why.
1. Fighting
No matter how good the intention, not every pet parent has been trained in dog socialization, dog body language, or dog play etiquette and this lack of training can lead to unpleasant events. Every Pet Camp Counselor undergoes extensive training before he or she is allowed to supervise group play for our overnight or doggie daycare campers.
This training includes both our own Pet Camp training as well as outside training. Also, unlike pet parents at the park who might be distracted by conversation or the latest thing to flash across their cellphone, the Pet Camp Counselors are solely focused on your dog's play.
2. Humping
Can it happen at Pet Camp? Sure, there are some dogs that just want to have fun. But unlike the dog park where humping can escalate into screaming and yelling (and that's just among the pet parents), the Pet Camp Counselors ensure that coitus interruptus is done in a professional and calm manner ensuring that while perhaps someone (or some dog) is disappointed, no one (or dog) is harmed.
3. Disease
Every dog at Pet Camp has been vaccinated for DHLPP (often referred to as distemper), Rabies, Bordetella, and CIV (the dog flu.)  Just think about how awkward it would be to have to ask a pet parent at the local dog park if their dog was fully vaccinated (talk about coitus interruptus).
And while we really like the folks at the San Francisco Recreation and Park Department, we know that they are not disinfecting their dog parks multiple times a day. Every one of Pet Camp's play areas (and we have over 20,000 square feet of play space) is disinfected multiple times each and every day.
So, if you're the type of pet parent who wants all the fun of your neighborhood bar without any of the downsides set out by Michael Shikashio, give the playgroups and doggie daycare at Pet Camp a try.
Thanks for reading.
---
Pet Camp has been offering group play for lodging/boarding dogs and doggie daycare for over 21 years. We offer all-day play as well as structured play based on the size and socialization skills of your dog. If your dog has special play needs, we have a solution for that as well.  If you're a pet parent in the San Francisco Bay Area and have questions about your dog's socialization or play needs give us a call at 415-282-0700.