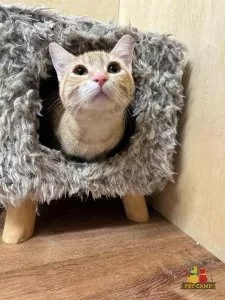 We often get asked why using a cat care facility is better than having a pet sitter check in on your cat while a pet parent is away.  We understand that in a place like San Francisco there are plenty of people who will check in on your cat while you're away.  You might find one that is a professional or you might find the kid next store.  To be candid, when my kids were growing up in Noe Valley, one of our neighbors – knowing good and well that we owned Cat Safari, asked one of my daughters to check in on her cat.  As much as a love my daughter(s), I'm still convinced that a 12-year-old, even one growing up in the home of parents who owned a pet care facility, was not as qualified to care for their cat as the counselors at Cat Safari.
But bias aside, here are 5 basic and concrete reasons why a cat care facility – especially one that is cat only facility is a better option for cat care:
Socialization: When cats stay at Cat Safari, they can interact with a wider array of people then if you had a cat sitter check in on your cat. Interaction with more people can help your cat become more socialized and confident.
More attention: Often a pet sitter will check in on your cat for only a short period of time. Maybe enough time to clean a litter box, feed you cat and bring in the mail.  At Cat Safari, for example, there are counselors interacting with the cats for 12 hours (at a minimum) every day – this is often more attention than a cat gets at home.
No interruptions: With a cat sitter, there is a risk that they may need to cancel or reschedule their visits due to unforeseen circumstances, which could leave your cat without care for an extended period. At a pet care facility, in contrast, there is a dedicated team of staff dedicated to your cat's care. Sure, something might come up for an individual employee – but that's why there are redundancies built into the care system to ensure that your cat's care is never compromised.
Safe and secure environment: From vaccine requirements to ventilation systems specifically designed to keep your cat healthy, cat care facilities AND especially those facilities dedicated only to cats, like Cat Safari, are designed and operated only with your cat's interest in mind. Additional features to consider are simple things such as how many doors there are between your cat and the "real" world, what type of disinfecting technology is used (we use electrostatic sprayers) and even such things as how do they clean – Cat Safari's vacuum system, for example, is housed a in room away from the cats so the cats are never disturbed by the sound of the vacuum.
Fun, love and attention: Your cat deserves more than just sitting at home alone.  Investigate the scope of activities your cat care facility offers.  At Cat Safari we've build a "safari solarium," offer Pi-Cat-So art classes and even a stroll around our Presidio Heights neighborhood!  Ask your cat care facility what options they offer for your cat.
There you go, 5 quick reasons why using a professional cat care facility might be better for you and your cat than a pet sitter.
Thanks for reading!
---
Pet Camp Cat Safari has been providing San Francisco's best cat care since 2007.  Staffed by trained professionals, our counselors ensure that your cat's stay will be healthy, happy, safe, and full of enriching activities.  Specially designed just for cats, Cat Safari is a one-of-a-kind cat only overnight care facility.  If you have questions about your cat, give us a call and chat with one of the counselors.  We'll do everything we can to make sure your cat's stay is purrr-fect.