As the Ranger Station launched its soft opening the other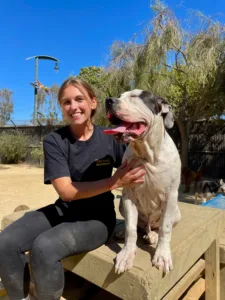 week, I have been reflecting on what I have done at Pet Camp the past year, and it's been unlike anything I expected and more than I could hope for.
This time last year, I was an eager 22-year-old recent graduate with a Bachelor of Science in Marketing from Rutgers University, ready to start my career. Suddenly, the opportunity to work as a Marketing Coordinator for Pet Camp arose. I deeply researched the San Francisco small business to find any disadvantages to working for the establishment, and surprisingly- not me sucking up to my boss- I couldn't find any. So I decided to pack my bags to move from New Jersey to San Francisco.
However, all the research I conducted about Pet Camp could not prepare me for what I would learn about the facility and the pet boarding industry. There are so many cool amenities that set Pet Camp apart- a retractable roof, a safari solarium for cats, customizable playgroups, 30,000 square feet of outdoor play space, and more. The biggest surprise to me about Pet Camp was all the moving parts that take place in the facility that I would never have thought about. When I first toured the Main Campground, I had a question about every single little thing, why, and how, and to much surprise, there was an answer to everything. If you think of a problem a pet boarding facility could have, don't worry. Pet Camp has already thought about it and has a way to fix it. But let's say an unexpected problem were to occur; they would solve the problem by taking the necessary precautions and asking, "What would I do for my pet?" This is a remarkable motto because it depicts how a small San Francisco business bases its decisions as if every dog or cat walking in was their very own pet.
For 27 years, Pet Camp has been building on the premise of said motto and continues to develop with that belief. For example, the most current endeavor is the Ranger Station, Pet Camp's new dog training and enrichment pet care facility, located just two blocks from the Main Campground.  For some dogs, group play is not enough to keep their doggie brains happy and healthy, so Pet Camp built the Ranger Station in support of their needs. It's a tough world for these urban dogs, and Pet Camp believes all dogs should have a place where they can explore and be their true doggie selves without restrictions. Again, when Pet Camp is informed of the needs of campers, it proactively responds. Even if that means designing and building a new facility just for them.
Considering everything, I want to point out that Pet Camp's attention and love for their campers also extends to their counselors. Pet Camp understands that pets are family, and those caring for them should also be. When they say the Pet Camp family on social media posts and the website, they really do mean family. During my year here, I have witnessed and experienced firsthand Pet Camp's counselors' support and love for one another. We have laughed, cried, talked, listened, and been through life experiences together. For instance, one of my favorite memories is when one of the counselors was performing in a punk rock show at a bar, and counselors came from all over the Bay area after work hours to support their endeavors. Even Mark showed up with his earplugs. Coming to support one another's personal life events illustrate how much our counselors mean to one another, and that is why they do such a great job working together and taking care of your pets.
This past year has made it clear to me that Pet Camp is a place that has built everything through a mutual love of pets and people. Hence, it will continue to grow by going above and beyond for its campers and counselors. As a final observation, Pet Camp is a 27-year-old family-owned and operated, well-oiled small business that provides consistent and compassionate care, and I'm looking forward to watching it grow.
---
Stevie, like all the Pet Camp counselors, takes pride in providing San Francisco pet parents with the best pet care in the San Francisco Bay Area.  If you have a dog or cat in your life and need overnight care, dog day care, dog training, bathing or pet transportation serveries give us a call.  We would be honored to assist you.