It's raining in San Francisco! We can breathe a sigh of relief that the fire season has ended, there's the likelihood of a good ski season in the Sierras, and if we're lucky, even enough water for showers next summer (if those folks in Los Angeles and Palm springs stop watering their golf courses for a few days). But while the rain is much needed, it can put a damper on your dog's day.  
There are some dogs that just don't go outside in the rain; there are some dogs that are just fine going out in the rain but have pet parents who would rather avoid it; and then there are families in which neither the dog nor the human wants to walk or play in the rain. Don't worry, we've got you!
How do we keep your dog dry even during a San Francisco rainy day.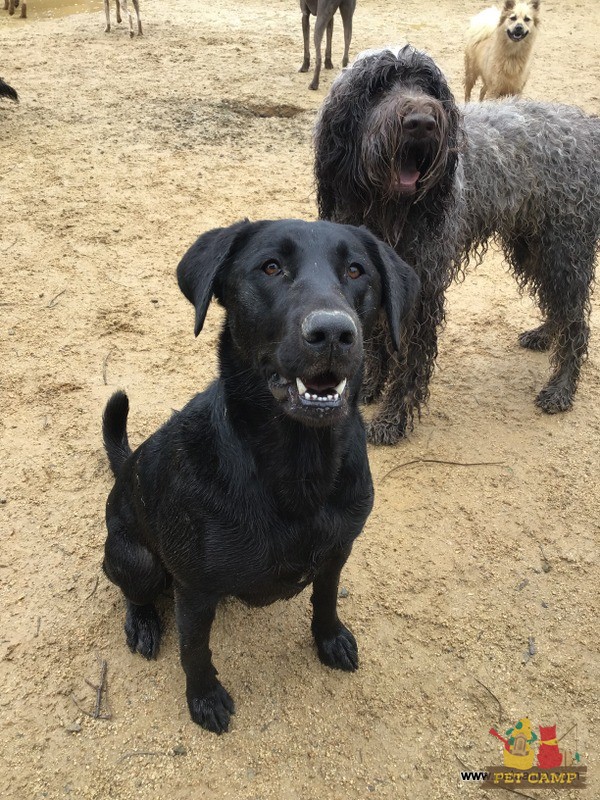 For many years Pet Camp was fortunate to have more outdoor place space than any other overnight or doggie day care facilities in San Francisco. This was amazing – but during the rainy season there were some dogs (or some pet parents) who shied away from our doggie day care because we lacked enough indoor play space. We solved this problem by building our 3,000 square plus indoor/outdoor play space. We say indoor/outdoor because this area is under a glass retractable roof – on rainy days we simply push a button, close the roof and your dog can play "inside."
If on the other hand you're the one who prefers to stay dry but your dog could care less, we've got that covered too. Provided it's safe, we go outside to play every day no matter the weather. So, if your dog wants to romp in the rain, we're ready for that. We put on rain gear and off we go to all of our outside play areas.
A good bath for your dog after a fun day of play
We also know that romping in the rain and rolling in the puddles can create a less than perfect ending to an amazing day of doggie day care (at least from the pet parent's perspective). We get it: taking home a wet, maybe dirty dog from doggie day care is not ideal. That's why on rainy or muddy days, we offer a Rainy Day Bathing Special where your dog can get a wash & wear bath (simply shampoo and dry) for only $25. This is NOT designed for long haired dogs who need a brush out before and after a bath, but it's perfect for shorter haired dogs so you get a happy and clean dog after a day of doggie day care on a wet and rainy day in San Francisco.
Thanks for reading, enjoy the rainy season and stay dry while we play with your dog!
---
Pet Camp has been providing San Francisco's best pet care since 1997.  If you are a pet parent in need of doggie day care, overnight care for your dog or cat, bathing, dog training, or pet transportation please give us a call and discuss all your pet needs with one of our counselors.