About 3 years ago we started to think about the need to make some significant changes to the Main Campground.  Some of the changes were necessitated by the basic wear and tear that over 100 dogs a day over 20 years place on a building.
We knew we needed new campsites. Our radiant heat system worked fine but it was inefficient, and we knew there had to be a better flooring solution than concrete with an epoxy coating.  We understood that we had to address these issues, and we did, but we wanted to do more. The Pet Camp Meadow is the more.
So what's the new Pet Camp Meadow and what makes is so cool?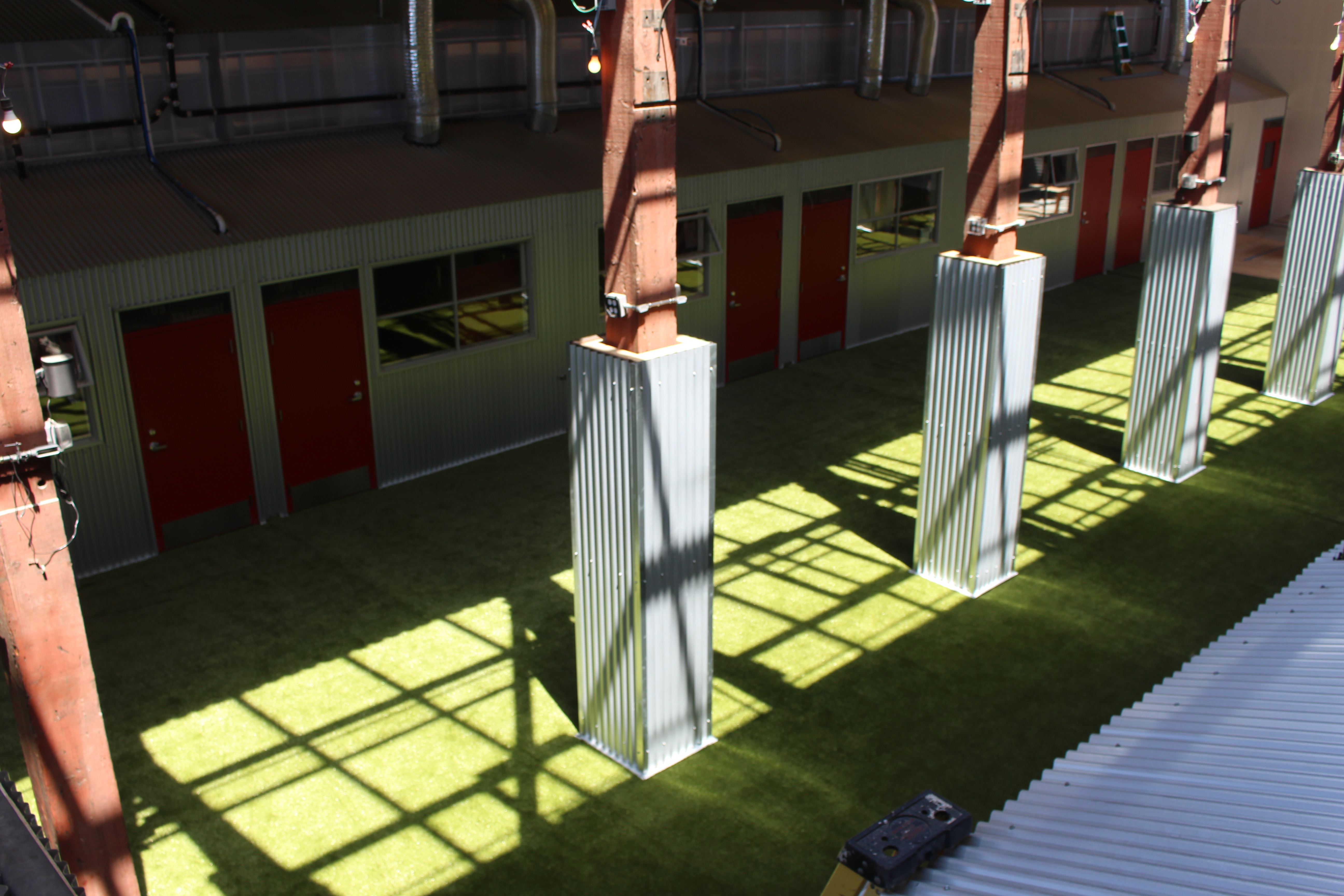 Pet Camp has always had plenty of outdoor play space. We've prided ourselves on our almost 20,000 square feet of outdoor play space, which is just way more than anyone else around.  But by now, you've realized all that space is outdoors. Not having an indoor play area limited us in a few critical ways.
Obviously, it meant that when it rained the counselors had to grab rain gear,  hang out in less than ideal weather, and then dry lots and lots of wet dogs. It also meant that we couldn't easily have dog-friendly public events as there was no WIFI (critical) or restrooms (in today's world perhaps less critical) in our outdoor play areas.   We wanted to resolve these issues by creating a new indoor play space at Pet Camp.
But we also knew that we didn't want to just build the same indoor play space most other pet care facilities had.  There are plenty of doggie daycare facilities that have indoor play spaces that consist of dogs playing on concrete.  We understand why they do this: concrete is easy to disinfect and if sealed correctly can be impervious to urine (and thus doesn't smell). This is all good, but the downside is that you have dogs playing on concrete all day (which is less than ideal for the dogs).
Other facilities put down turf to try and create more of a dog park/outdoor feel.  This is better than the dogs playing on concrete, but most of these facilities don't install adequate drainage or ventilation and soon the turf reeks of urine.
The Pet Camp Meadow is different from any other dog park; here's why.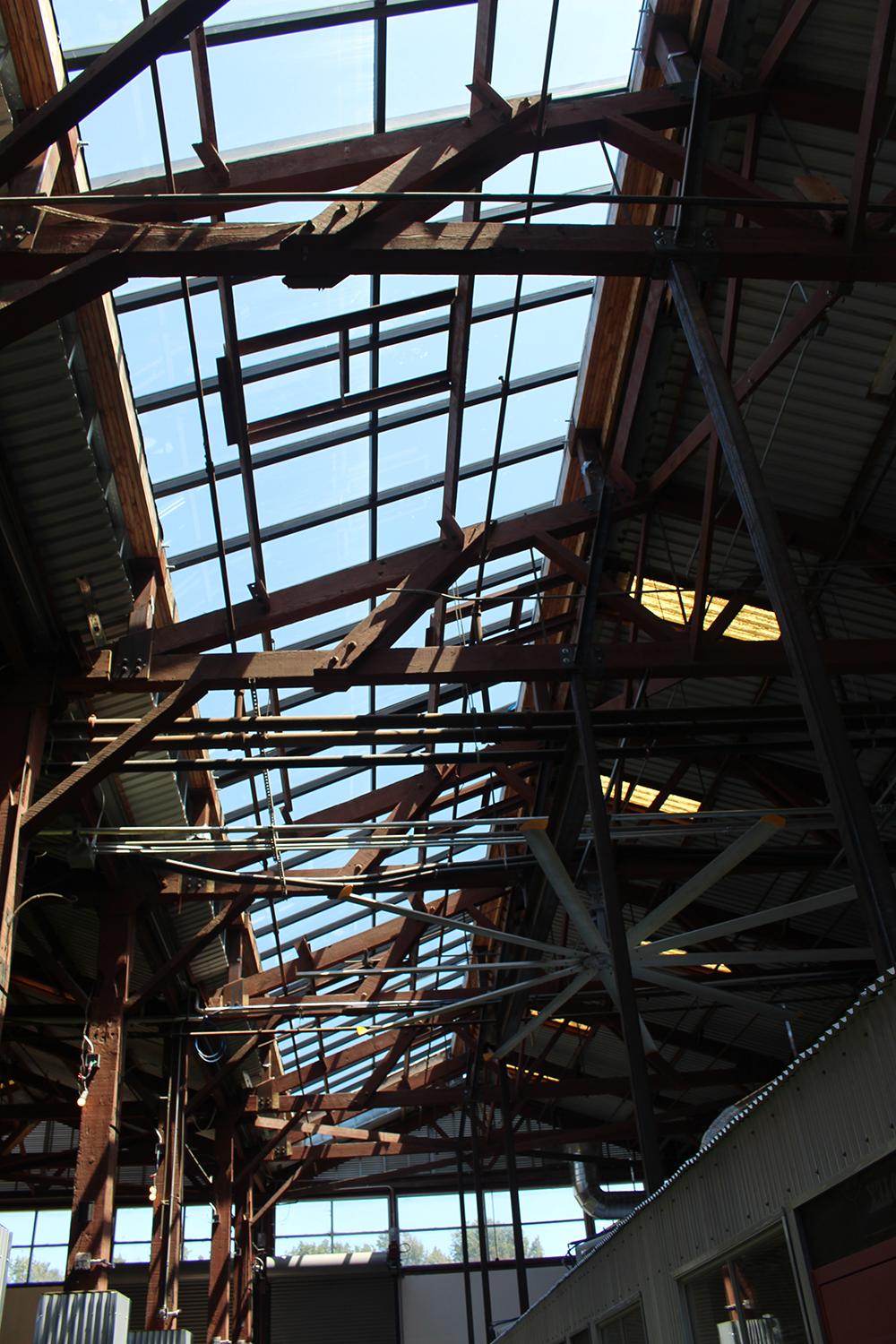 First, we combined the best of the other dog parks.  We created the equivalent of a huge shower pan, meaning we sloped and  sealed a concrete floor and installed drains.  Above this, we installed 2" air tiles upon which turf is installed AND under the turf but above the concrete we installed a flushing system.  So, we've got turf that you can clean and disinfect AND everything that goes through the turf gets flushed to a drain. NO smelly turf and NO dogs playing on concrete.  Frankly, for most pet care facilities, this would have been enough and there are some facilities that have taken this route with great success, but we didn't stop there.
Without trying to sound braggadocious, we took the Meadow to somewhere no pet care or doggie daycare has ever gone: we installed a retractable roof.
The Meadow measures about 100' x 33' or about 3300 square feet.  Over half of the Meadow we installed a glass roof that measures 96' x 15' and the middle 48' x 15' opens, creating an opening in the roof above the Meadow.  This allows us to bring in an unbelievable amount of fresh air and sunshine into an indoor dog park. In fact, calling the Meadow an indoor dog park isn't really fair.  The Meadow is really an indoor/outdoor dog park! Full of fresh air and sunshine but also protected from bad weather – oh, and it also has WIFI and access to a restroom.
Come over and take a look, we think you'll think it's pretty cool too.
As an added benefit, if you're part of a non-profit that is looking for a pet friendly space to host your next event, we would be pleased to offer you use of the Meadow free of charge!  We'll even give you the WIFI password and show you where the bathrooms are.
Thanks for reading!
---
Pet Camp has been offering award winning and customizable overnight and day care for dogs and cats in San Francisco for over 20-years.  We are proud to offer group play for social dogs, K9 Enrichment for dogs that do better outside of group pay, training, bathing and transportation.  If you're a San Francisco pet parent with questions about your pet's needs, give us a call and speak with one of the counselors.
2

Responses to "Introducing: The Pet Camp Meadow"
Geraldine Pitcher

Mark Klaiman