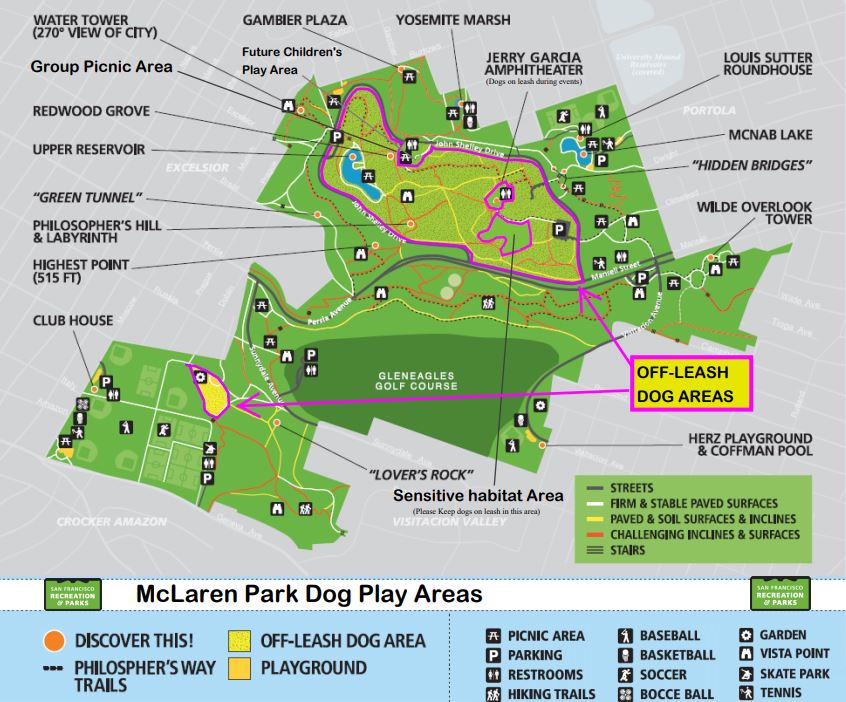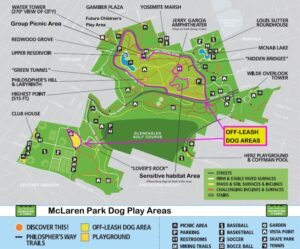 Truth be told, for the last gazillion years I've regarded myself as more of a Fort Funston pet parent than a McLaren Park pet parent. More about why I adore Fort Funston in a later blog. But in the last month or so, as my desperation for anything new after 11 months of Shelter in Place grows, I started going back to McLaren Park after a long hiatus. Now I'm not sure why I was away for so long.

McLaren Park offers well behaved dogs two different off leash play areas. One area, referred to as the McLaren Park Geneva Dog Play Area is more of a traditional dog park BUT it is near the road and not fenced in! If you have a dog that wants to play in a dog park and has really-really good recall, this is a fine area.

My preferred area is the larger dog friendly area bordered by John F. Shelley Drive Loop and Mansell Street. Some folks refer to this as the McLaren Amphitheater Dog Play Area because it is near the Jerry Garcia Amphitheater. This area is again not fenced in and there are times you are near streets, houses, and the amphitheater itself (where your dog does need to be on leash). The advantage to this area, from my point of view, is the expansive hiking trails and areas to explore. You can just wander the trails with your dog – often completely by yourselves. There are also 4 larger open spaces for romping about and the upper reservoir for taking a quick dip (your dog, not you). It really is the perfect off leash dog area combination.

One quick pointer: like many outdoor places in San Francisco, McLaren Park can draw a crowd on nice weekend days and there are times when both dog areas have a lot of dog walkers with a number of dogs, so you may want to plan your visit earlier in the day.

Are you a McLaren Park fan? Have a different favorite San Francisco dog park?
Thanks for reading.
---
Pet Camp's 20,000 square feet of off leash dog play area is the largest private dog play space in San Francisco.  If your dog needs doggie day care or overnight care, ask a Pet Camp Counselor about our group play and non-group play options.  If your cat needs overnight care, our Cat Safari is an exclusive cat only option in Presidio Heights.