San Francisco Wades into the Politics of Veterinary Care
November 26, 2019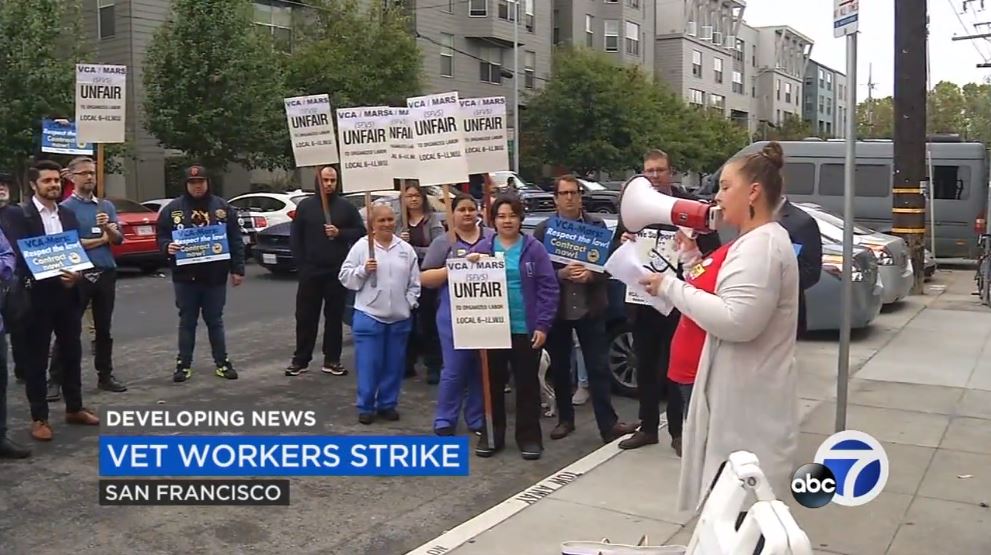 It's no secret that almost everything in San Francisco is political; now that list includes veterinary care.

Over the past several years there has been an explosion of corporate veterinary care (where a corporation owns the practice rather than the veterinarian on-site). The largest of these corporations is Mars Inc. (yup, the candy company). The Mars corporation owns VCA (which in San Francisco means All Pets Hospital and San Francisco Veterinary Specialists), Banfield (Marina Pet Hospital) and Blue Pearl (Norcal Veterinary Emergency and Specialty Hospital).

Last year certain staff at San Francisco Veterinary Specialists (SFVS) voted to join the International Longshore and Warehouse Union, which, we believe, makes SFVA the only unionized veterinary clinic in the country. According to some staff at SFVS, Mars has not been negotiating in good faith. San Francisco Supervisor Hilary Ronen has weighed in on this issue.

According to KQED, our local NPR station, Supervisor Ronen asserted that Mars is "doing every sneaky tactic to stall the negation of the first contract. It's disgusting, it's illegal and it needs to stop." Frankly, hearing this kind of statement from a San Francisco Supervisor when a large corporation is involved in a labor dispute is not that unusual or even interesting. But Supervisor Ronen also asserted that Mars "is eroding care not just here but all across the country."

We've written about the consolidation of the veterinary industry for some time now. We've lamented the loss of veterinary owned practices in San Francisco, but we have NEVER said that corporate owned practices provide inferior veterinary care or that they are "eroding care." We're not sure the basis of Supervisor Ronen's statement, but certainly hope that her desire to assist those seeking a contract with Mars has not resulted in her using scare tactics against parents who need to have confidence in the veterinarians and staff providing care for their pets.

If you are a SFVS client, have you noticed a change in care since SFVS was purchases by VCA/Mars Inc.? Do you have thoughts about the labor dispute?
Thanks for reading.
---
Unlike these veterinary clinics, Pet Camp remains family owned and operated and a proud member of the San Francisco small business community.   For over 20 years Pet Camp has been providing award winning overnight care for dogs and cats, doggie day care, bathing, training and pet transportation.  If you're a San Francisco Bay Area pet parent and need pet care or have questions about pet care, give us a call and chat with one of the Pet Camp counselors.