I moved to San Francisco in September 1988.  I had been to California twice before: once for three days in Oakland to take the California Bar Exam, and the second for three days in San Francisco to look at neighborhoods I might want to live in when I moved here.  Besides that, with no tie to San Francisco, my move was as simple as "nothing ventured, nothing gained."  I lasted 11 months at that first job – I clearly wasn't ready for law firm life; took another law job (not at a law firm) for just under 10 years and a final law firm job for about a year – guess I still wasn't ready for law firm life.  The last 25 plus years I have had the privilege, the stress, the sorrow and the heartache, as well as the honor, joy, and pride, of running a small business, Pet Camp, in San Francisco.
I have seen many changes in the 35 years that I've lived in San Francisco.  Like all changes, some have been good and some have been, to be as gentle as possible, not so positive. And while I am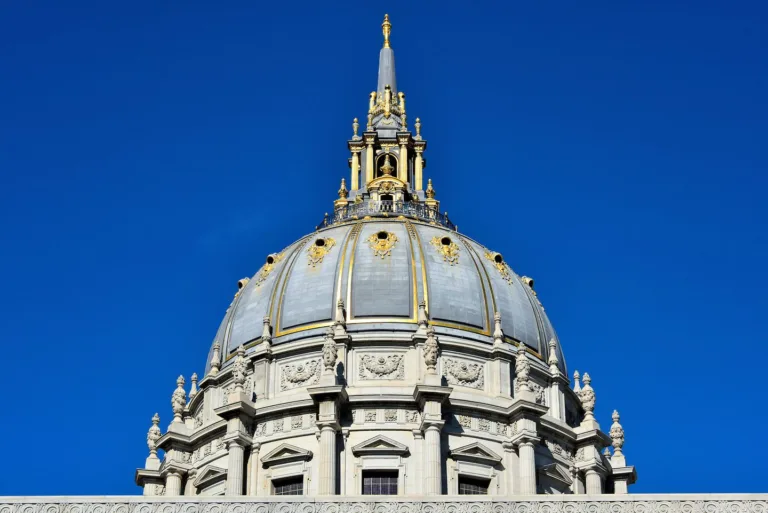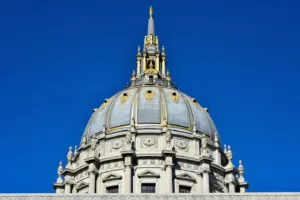 the first to complain about San Francisco at our dinner table (especially to my City and County of San Francisco employee wife); I am also the first to defend it to anyone from outside of our 49 square miles who dare attack it.  I am (mostly) proud of what San Francisco represents and proud that, as a small business owner, I get to contribute to the values – socially and politically – that San Francisco represents even when, as is most often the case, my personal values might skew slightly to the right.  That is why I am still committed to San Francisco!
How is this commitment demonstrated?
Pet Camp, like so many other businesses both large and small in San Francisco, suffered immensely during the pandemic.  Unlike other businesses that could pivot to a work-at-home or hybrid model, Pet Camp is a hands-on, in-person,365 days- a- year, 24 hours- a- day work environment.  We stayed open throughout the pandemic, taking care of the pets of essential workers, and of those out of town taking care of loved ones or stranded overseas.  Also, unlike other businesses that have downsized their presence in San Francisco or have cut and run to a city and state that they think will be more "business friendly", Pet Camp has expanded its footprint in San Francisco!
In December 2021, we purchased another building in the Bayview Neighborhood just a few blocks from our Main Campground to expand our Canine Enrichment Program.  This new location, our Ranger Station, was scheduled to open at the beginning of 2023 – we now hope to be operational mid-2023 and complete landscaping by the end of the year.  You would have thought that after so many years I would have expected the cost overruns and time delays of construction in San Francisco but here we are – perhaps this is why some of those other businesses left San Francisco?
Given what we know about running a business in San Francisco; why expand?  What else, with all modesty, does Pet Camp want to provide?  Glad you asked!
Being an urban dog is hard but being a dog in San Francisco is really, really hard!  Every day, dogs are confronted with an amazing array of stimuli.  There are Muni buses and light rail vehicles; police cars, ambulances, and fire trucks/engines; motorcycles; low-riders; pedestrians, scooters; bicycles; and of course, evil skateboards.  On the sidewalk there are outside drinkers and diners; strollers; people using walkers, crutches, or wheelchairs; and those evil skateboards again.  AND this is the "good" stuff!  Add in the less positive things that San Francisco has gotten all too well known for and suddenly the stress on a dog just taking a walk around the neighborhood can be overwhelming.
Next add that our backyards are approximately the size of a postage stamp.  Even if you are fortunate enough to have one, it still means that to be able to romp around a dog needs to go to a dog park where there are (almost always and by definition) other dogs!  So, your dog now needs to navigate all the human stuff mentioned above AND be social with other dogs!  Just how much are we going to ask from one four-legged friend?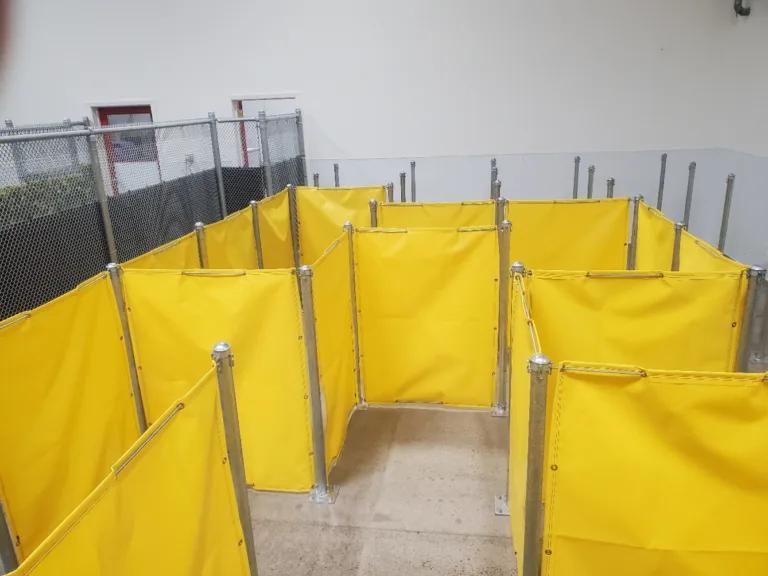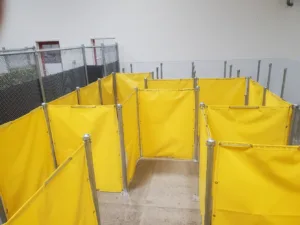 Pet Camp's Ranger Station was designed and constructed with all of these issues in mind.  We wanted to create a place where some of these issues could be resolved and others, frankly, circumvented.  For dogs for whom urban stimuli – both outside and inside the home – is too much, we created a desensitization area.  This area has the sounds of San Francisco as well as those objects that often cause angst in dogs.  Unlike a pet parent who often can't control when a doorbell rings or a skateboard whizzes past, at the Ranger Station we can control these stimuli and reward the appropriate reaction.  We can take our time and gradually change behavior that will allow the dog and pet parent to have a more enriched San Francisco experience.
For dogs for whom the San Francisco dog park is just too much (or not enough), or for whom a walk around the block and the possible interaction with other dogs is not a good idea, the Ranger Station will have six outdoor areas specially designed to stimulate dogs.  It's filled with tunnels, bridges, places to explore and sniff, different textures to walk upon, and sights and sounds that are all designed to engage a dog.  For dogs that don't get the opportunity to go to off-leash areas or even on-leash hikes, these areas are perfect.
The Ranger Station will also have a treat/scent wall custom designed to both challenge and reward dogs for finding a treat, locating a toy, or responding to a scent.  We can use this wall to teach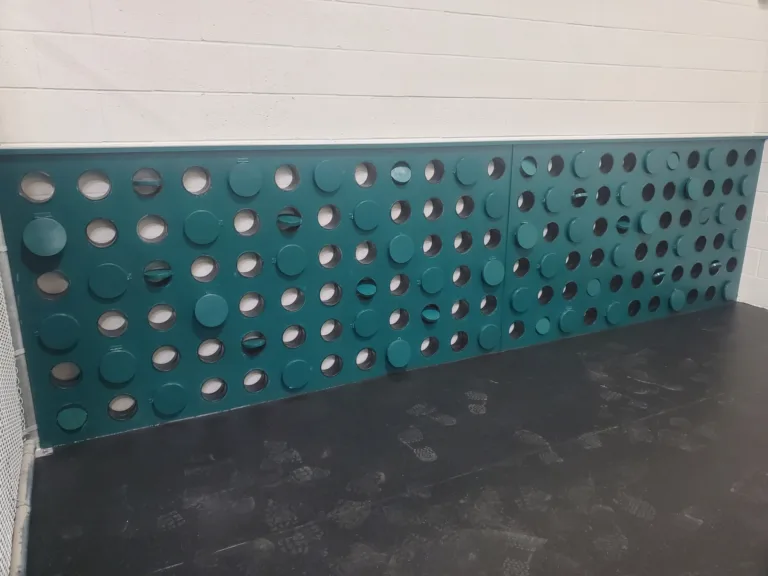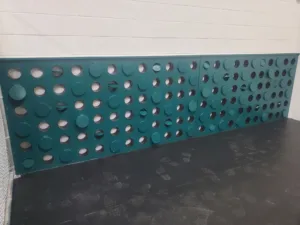 dogs to associate specific words with specific items and reward them for locating the item and bringing it to a counselor.  For additional decision-making challenges, a changeable maze creates the opportunity for positive-reward based decision making and allows for the both retention (remembering which way to go) and mental elasticity (needing to make adjustments based on the maze changing).  In addition, there will be an assortment of agility/fungility equipment to both challenge dogs physically and mentally.  Anyone who has raised a dog, or human, knows that you can tire either one out by running them ragged or by simply challenging them for a short period of time.  Lastly, there will be two training rooms upstairs and away from everything else to allow the counselor and dog to focus on specific training needs.
So, fellow San Franciscans, join us (and send your dog to us too) as we help San Francisco recover.  Continue to invest in our City and in our locally owned businesses.  Bring your employees back to work in the office (especially those City and County of San Francisco employees who are still not coming in five days a week) so they can grab lunch or an after-work drink with their coworkers (and send their dog to dog daycare).  Encourage our city leaders and decision-makers to put aside personal grievances and petty politics to focus on the bigger picture, create a vision for San Francisco's future, and help all San Franciscans succeed!
Thanks for reading.
---
Pet Camp has been providing cat and dog care in San Francisco since 1997.  If you are a San Francisco Bay Area pet parent with questions about overnight care for your dog or cat, dog day care, dog training or pet transportation, give us a call and one of the amazing counselors will be happy to help you!