Got Pet Issues? Everyone Thinks They're an Expert
May 8, 2019


Last weekend I was waiting to get my hair cut at the neighborhood place near my house (I know, you're thinking you actually pay someone to cut your hair?). I've been going there for years and since it's a neighborhood place you see the same people in there from time to time.

This past weekend there was another customer I know from the neighborhood who I know identifies as a "dog person."  I don't think she currently has a dog (in fact, I don't actually know if she's ever shared her life with a dog) but we've talked a lot about dogs, Pet Camp, and her volunteer experience at San Francisco Animal Care & Control.   I tell you these details because they are relevant to what happened.

Anyway, I'm waiting to get a haircut, and the person there before me starts to tell a story that his dog (a pit mix) was "attacked" by a dog (also a pit mix) while walking on a trail in Pacifica.   It was an on-leash area and his dog was on a leash but the other dog wasn't.  He was asking advice on what to do.  

Here's the advice he received from the other customer and what I was thinking: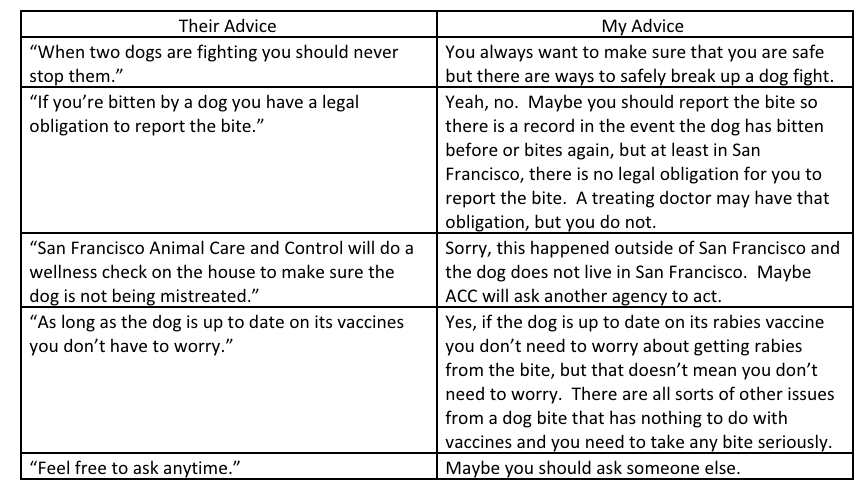 I'm not saying that I'm a dog expert and I almost always refrain from offering advice (even when directly asked), but I'm always stunned when people are just willing to opine on dog-related topics – no matter the extent of their knowledge.
Thanks for reading.
---
For over 20 years Pet Camp has been providing award-winning care to San Francisco's dogs and cats.  Pet Camp offers overnight care for dogs and cats, doggie day care (we also offer cat day care when needed), training, bathing and transportation.  We also have options for dogs that do not play well with other dogs but still need day care or overnight care.  Have a question about your pet's care?  Give us a call at 415-282-0700 and speak with a counselor.